To see Hoang Su Phi in the flooding season is a wonderful experience. You will not be able to hold back when you see Hoang Su Phi with your own eyes the beautiful water season.
I. ABOUT HOANG SU PHI
Hoang Su Phi is a highland district of Ha Giang province, always on the list of ideal destinations for backpackers with the overwhelming beauty of the mountains and rugged roads that attract thrilling drivers.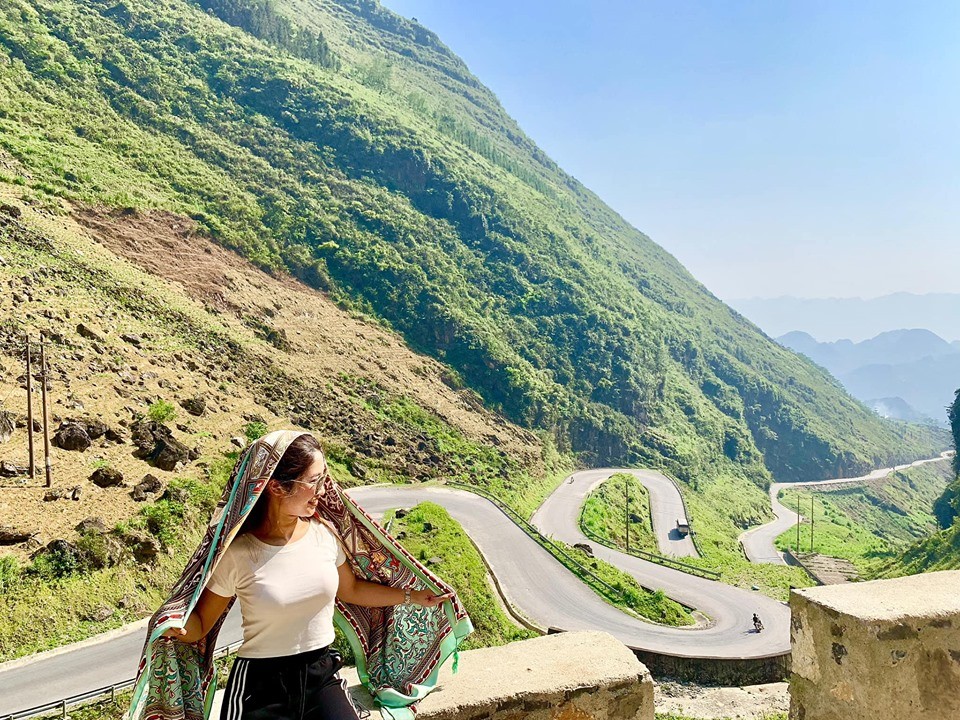 Discover Hoang su Phi to not waste youth.
Hoang Su Phi lies neatly on the upper reaches of the Chay River, which are mostly mountainous and steeply sloped and divided by many streams. This is a long-term settlement of people of 12 ethnic groups, of which the Nung, Dao, Tay, Mong, La Chi occupy the majority.
II. ENJOY HOANG SU PHI IN THE FLOODING SEASON
1. Hoang Su Phi flood season
Around May to July every year is the time of Hoang Su Phi new rice season. During the summer with rains, the people here will take advantage of the water to cultivate. Water crept in all directions, covering the whole valley, pouring from the high field to the lower field. Hoang Su Phi in this flooding season, Hoang Su Phi is located in the middle of the vast sky, reflecting the sky and the sunshine, creating extremely beautiful and glittering scenery.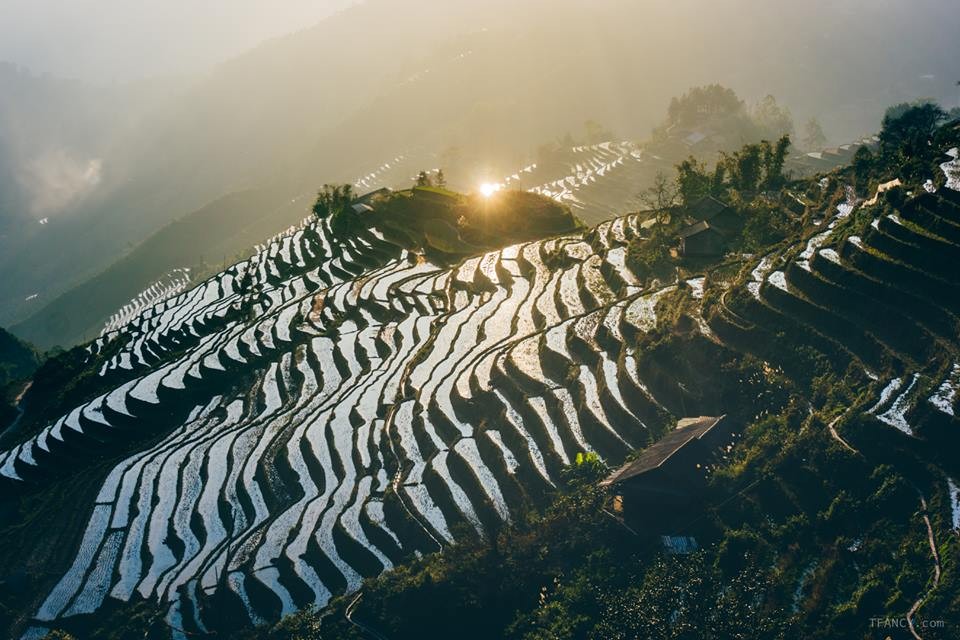 Dawn breaks down in Hoang Su Phi.
See the scenery of the terraces in the early morning soft, looming curves of which are white clouds, the dazzling sunshine of the dawn, the small, lovely roofs ... and release soul with taste of mountain and grass will make visitors feel extremely generous.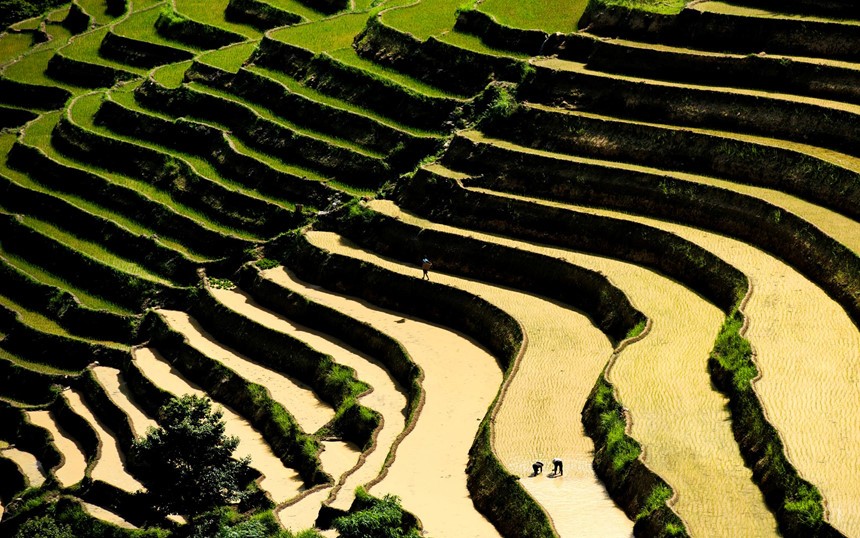 Hoang Su Phi, the beautiful season with flowing water
In front of the mountains, the same message, amidst the white clouds, is like a paradise in the ground, hiding a small image of people here.
In the sunset, watching the magical fields set from the foot of the mountain to the top of the mountain makes one think of the distance between the sky and the sky so close, and imagine that you can reach up and reach the sky.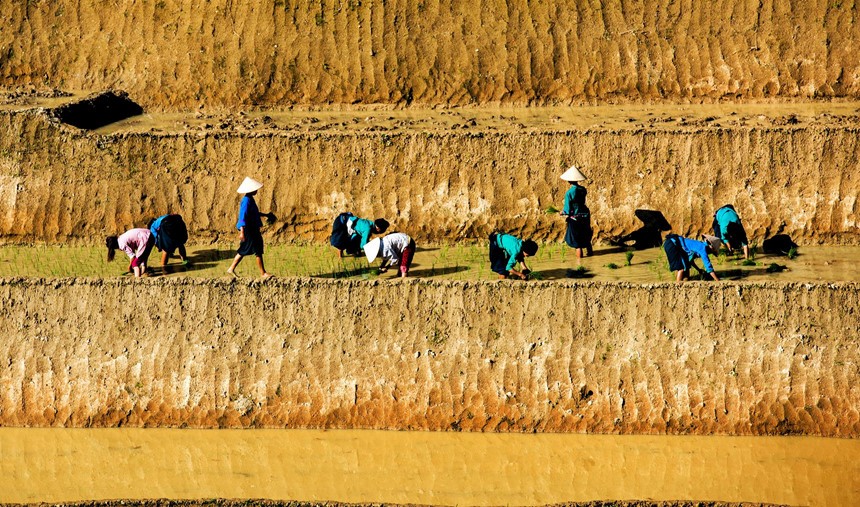 Images of ethnic people planting in the flooding season
You will easily see images of H'Mong people in colorful dresses, Dao and Nung people cultivate. The long shadows on the water are busy with work.
Ethnic people here still retain their identities, from costumes to culture, customs and even the sincerity, innocence and hospitality.
The gentle smiles of the Mong children are sunny, windy, in nature, Northwestern mountains with a basket on their backs, making people love life more, love life, and fade away sadness.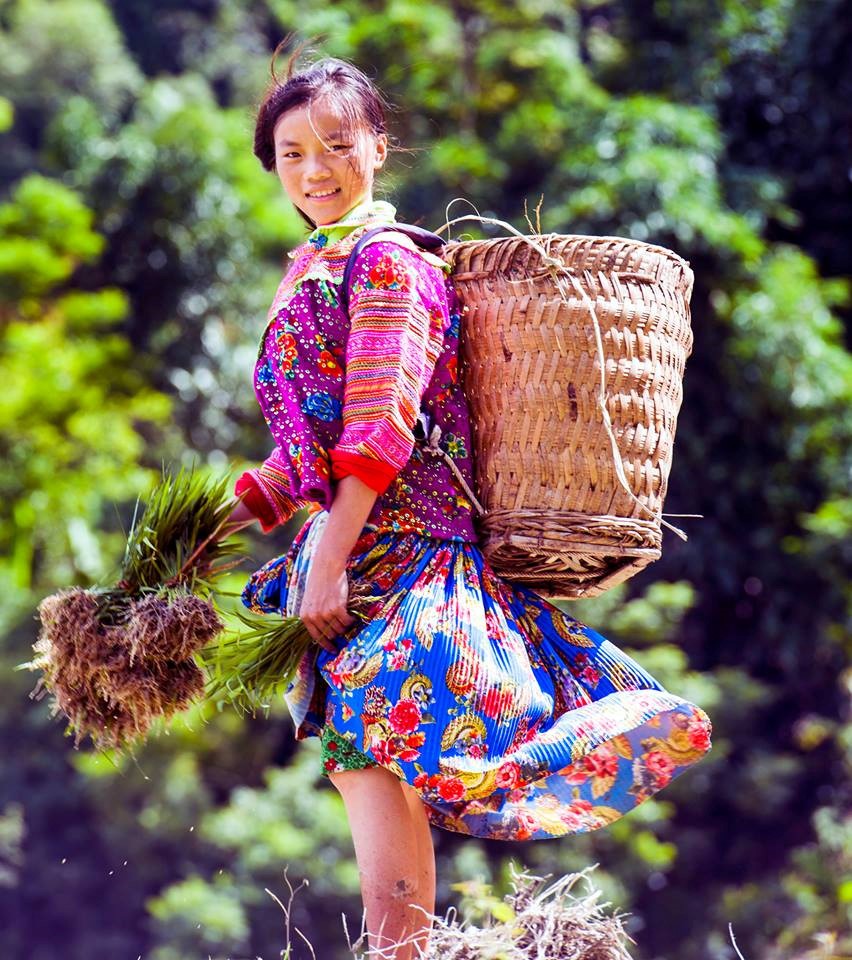 The optimistic smile of the Mong girl.
Experience, feel Hoang Su Phi season water rushing from many perspectives, you will not help admiring the masterpieces blended by nature and people. And you will understand why this land is the inspiration for many photographic lenses, the discovery stop for so many backpackers.
Let's discover Hoang Su Phi, the beautiful and exciting time of flowing water
http://www.number1travelvietnam.com/hanoi-ha-giang-cao-bang-quang-yen-lang-son-hanoi-on-motorbike-8days-7-nights-ct-755-763--523.html

Part 1- To Be Continue
Editor: Lan Nguyen